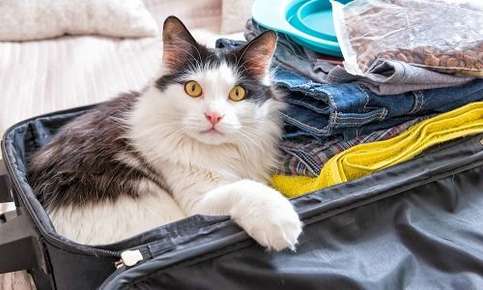 What to Do With Your Cat When You're Away for the Weekend
Your travel plans instantly become a little more complicated when you add a pet to your family. Your dog definitely needs a reservation at a kennel or regular visits from a pet sitter when you're away, but what about your cat?
Will Your Cat Be Fine Alone for a Few Days?
Cats have a reputation as independent creatures. They don't require walks or frequent trips outdoors and enjoy sleeping the day away. Although your cat may be fairly self-reliant, it's not to a good idea to leave him or her alone for more than one day for these reasons:
Illnesses and Injuries Can Happen at Any Time. If your cat becomes injured on a mad dash through your home or develops an illness, no one will be around to take he or she to the veterinarian. A delay may not be a problem for a minor health problem, but it can be catastrophic if your pet is seriously ill or injured.
Litter Box Issues May Occur. Cats are just as particular about their litter boxes as you are about the cleanliness of your bathroom. If the box becomes dirty when you're away, they may find another place to eliminate. Unfortunately, once your cat starts using a corner of the room or your new carpet as a substitute litter box, it can be difficult to convince him or her to begin using the box again.
Food and Water Quality May Suffer. Are you planning to leave several bowls of food and water out during your getaway? By the end of your trip, the food will be stale and the water will be slimy. Automatic feeders can help you avoid stale food, but you never know if the feeders will malfunction.
Cats Benefit from Human Interaction. Many cats are just as affectionate as dogs and need regular human interaction for good mental health. Even cats that seem a little aloof benefit from spending time with people. If left alone for long periods, they can become stressed or anxious.
Should You Send Your Cat to a Boarding Facility?
Kennels and boarding facilities can be a good option if you have a dog but may not be the best choice for your cat. Although your dog may adjust to his or her temporary surroundings, your cat may find the experience extremely stressful.
If you decide to board your cat while you're away, eliminate kennels that place cats in cages. Choose facilities that offer multi-level "rooms" complete with multiple hiding and resting places. Cats do best in these facilities if they can't see or smell other cats while in their rooms.
Pet sitters are a better choice for many cats. Whether you hire a professional pet sitter or ask a family member or friend to care for your cat, schedule visits at least once every day.
In addition to cleaning the litter box and providing fresh food and water, make sure that the sitter is willing to spend a little time interacting with your pet. Some cats may hide if the sitter is someone they don't know well. If that's the case, give the sitter a list of your cat's favorite hiding places.
Let the sitter know that it's perfectly fine if your pet wants to remain in the hiding spot. There's no need to try to remove him or her from hiding, but the sitter should take a quick look at your cat to make sure that he or she is healthy.
Regular checkups help you keep your cat healthy and happy. If it's been a while since your cat saw the veterinarian, or you're concerned about a possible health problem, give us a call.
Sources:
PetMD: Leaving Your Cat Alone: 9 Things You Need to Know
https://www.petmd.com/cat/slideshows/leaving-your-cat-alone-9-things-you-need-know
Healthy Pets: Should You Leave Your Pet Home Alone While You're Away?, 1/6/14
https://healthypets.mercola.com/sites/healthypets/archive/2014/01/06/home-alone-pet-cat.aspx
Purina: How Long Can You Leave a Cat Alone?
https://www.purina.co.uk/cat/purina-one/advice/health/article/leave-cat-at-home